Domain Name & Hosting
Domain Name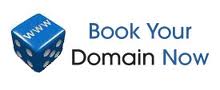 A domain name is an identification label that defines a realm of administrative autonomy, authority, or control in the Internet. Domain names are also hostnames that identify Internet Protocol (IP) resources such as web sites. Domain names are formed by the rules and procedures of the Domain Name System (DNS).
Domain names are used in various networking contexts and application-specific naming and addressing purposes. They are organized in subordinate levels (subdomains) of the DNS root domain, which is nameless. The first-level set of domain names are the top-level domains (TLDs), including the generic top-level domains (gTLDs), such as the prominent domains com, net and org, and the country code top-level domains (ccTLDs). Below these top-level domains in the DNS hierarchy are the second-level and third-level domain names that are typically open for reservation by end-users that wish to connect local area networks to the Internet, run web sites, or create other publicly accessible Internet resources. The registration of these domain names is usually administered by domain name registrars who sell their services to the public.
Hosting-
Single page hosting is generally sufficient only for personal web pages. A complex site calls for a more comprehensive package that provides database support and application development platforms (e.g. PHP, Java, Ruby on Rails, ColdFusion, and ASP.NET). These facilities allow the customers to write or install scripts for applications like forums and content management. For e-commerce, SSL is also highly recommended.A web hosting service is a type of Internet hosting service that allows individuals and organizations to make their own website accessible via the World Wide Web. Web hosts are companies that provide space on a server they own or lease for use by their clients as well as providing Internet connectivity, typically in a data center.
As an online business, a very important option is selecting your hosting service. Your web hosting partner actually controls and manages your server which houses your website.